Syrian
Refugee
Crisis
Give Relief To Suffering Families
How You Can Help Syrian Refugees
Donate
Here are ways you can help
Help Survivors of the Syrian War
The Prophet (saw) said, 'It (Shaam or Greater Syria) is Allah's best land, to which He sends His best servants'. [Abu Dawud]
In the past decade, Syrian airstrikes have taken the lives of many, left children orphaned, and destroyed schools, hospitals and livelihoods. In a desperate bid for safety, millions of Syrians have fled their homes to seek refuge - many making the journey on foot with only the clothes they are wearing!

The Syrian war has caused the largest refugee crisis of our time, as millions now live in makeshift shelters and IDP camps facing deep poverty and uncertain futures. Years of conflict have left the healthcare system incredibly fragile, increasing the number of fatalities.
For the past eight years, Muslim Hands has been working in IDP camps in Turkey to help Syrian refugees rebuild their lives. Since December 2019, 600,000 Syrian families have sought emergency shelter in refugee camps in northern Idlib, along the Turkish border.

Through your donations, our teams are providing clean water, essential food, and emergency medication to the starving and sick living in these camps. The people of Syrian have already endured unimaginable hardship. Donate today and help them in their hour of need.
Key Facts
Since the outbreak of conflict in 2011, the situation in Syria has steadily deteriorated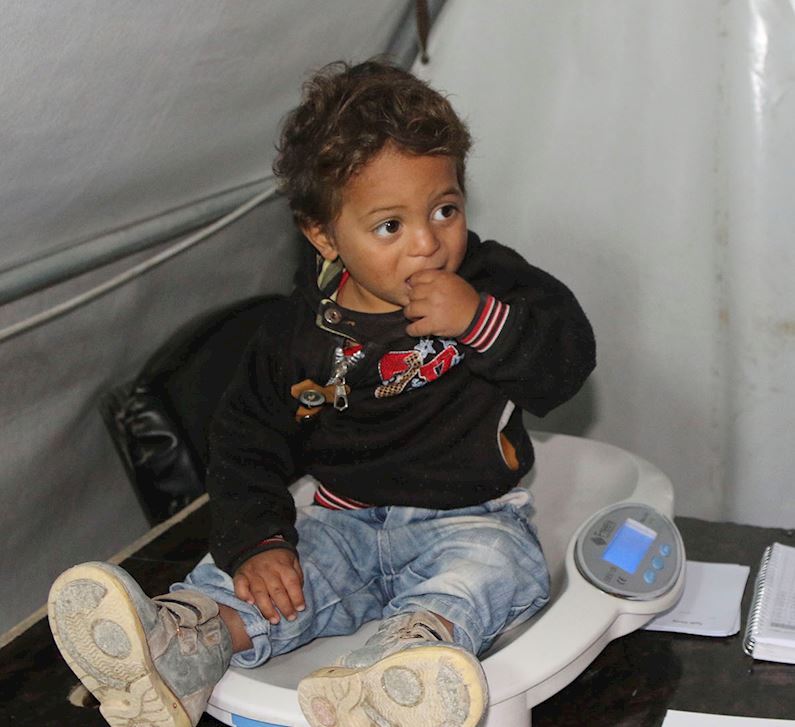 Our Work in Refugee Camps
Ahmed, his wife and five children fled the war in Syria having encountered unimaginable horrors. They now live in a refugee camp in western Idlib, where the only shelter they have is a makeshift tent. Their son Adel was in desperate need of medical assistance, however, Ahmed could not afford his treatment due to unemployment.
 "I couldn't give him food or medicine for months. Day by day, he was slowly dying, right in front of my eyes" - Ahmed. "Then, someone told us about a medical centre at a different camp that could make him better. I moved my whole family to the new camp so that we could visit the clinic immediately. They gave Adel the medication and food he needed to get better".
Thankfully, the doctors at the clinic were able to save Adel's life through intense nutritional treatment. Ahmed is extremely grateful to the donors who are supporting these medical clinics and providing assistance to displaced Syrian families. Through their generous donations, Ahmed and his family are receiving constant medical care.
Adel is now healthier, stronger and has a better quality of life. The doctors at the clinic are constantly monitoring his condition so that he does not deteriorate again. Through donors like you, children like Adel are receiving life-saving medical care and none of this would have been possible without your support.
Make a life-saving donation
---