"Whoever feeds a person breaking his fast will earn the same reward as him, without anything being lessened from the reward of the fasting person"- Prophet Muhammad [Tirmidhi]
---
This Ramadan multiply your reward of fasting by donating your Zakat and Sadaqah to feed the hungry and poor.
Feed the Hungry this Ramadan
This Ramadan as we enjoy a delectable iftars with our families, millions of Muslims around the world will remain hungry beyond iftar time, unable to nourish themselves with food after a long day of fasting. Let us remember to share our blessings with those less fortunate during this blessed month.

The Messenger of Allah (saw) encouraged us to give food to the poor, even if it is half a date in charity. Let us follow his exemplary teachings this Ramadan and provide Iftar to the poor who cannot afford food. For only R28, you could provide a cooked meal to the needy.

Last Ramadan, with your help, we fed over 950,000 people in need. This year, we aim to provide 2 million meals to food-insecure families in over 30 countries. We will be distributing family food parcels to provide iftar and suhur as well as serving cooked meals at community Iftars.
We distribute food to orphans, widows, the elderly and those living in extreme poverty. Each pack contains enough food to last a five-person household for the whole month of Ramadan and includes: flour, split peas, mung beans, lentils, cooking oil, tea, salt, chili, sugar, dates, flour, and soft drinks.

This Ramadan earn the pleasure of the Almighty by giving food to those most in need. The more you give for the sake of Allah, the more Allah will give to you. Donate now to multiply the reward of your fasts.
The Blessings of Giving Iftar
The Prophet (saw) said, 'Whoever feeds a person breaking his fast will earn the same reward as him, without anything being lessened from the reward of the fasting person'. (Tirmidhi)

The blessings of giving Iftar are incredible, from being forgiven all your minor sins to doubling the reward of your fast. This Ramadan, we are providing Iftar for those in need for just £1 per meal - so don't miss out on these rewards!

By supporting our work, you can help feed a fasting person who can't afford the food they need to sustain them while fasting. Whether they are a refugee who has lost their home and livelihood, or a family struggling to find food in a war-torn country, they need our help to survive. Donate today to help save lives.
Giving Zakat in Ramadan
Zakat is the third pillar of Islam, a compulsory worship which requires us to give 2.5% of our annual wealth in charity. This ensures that the poorest members of society are protected from hunger and financial insecurity. For families who are struggling to survive, your Zakat is a great blessing from Allah (swt).

During Ramadan, Allah multiplies the reward of giving Zakat by 70 times - so it's the perfect time to calculate and distribute your Zakat!

Our dedicated Zakat service allows you to fulfil this obligatory worship, simply and easily. We're here to help you every step of the way, from calculating your Zakat to ensuring it reaches those who need it most. Donate today to help save lives.
I WANT TO FEED THE HUNGRY
Will you be the answer to their du'as?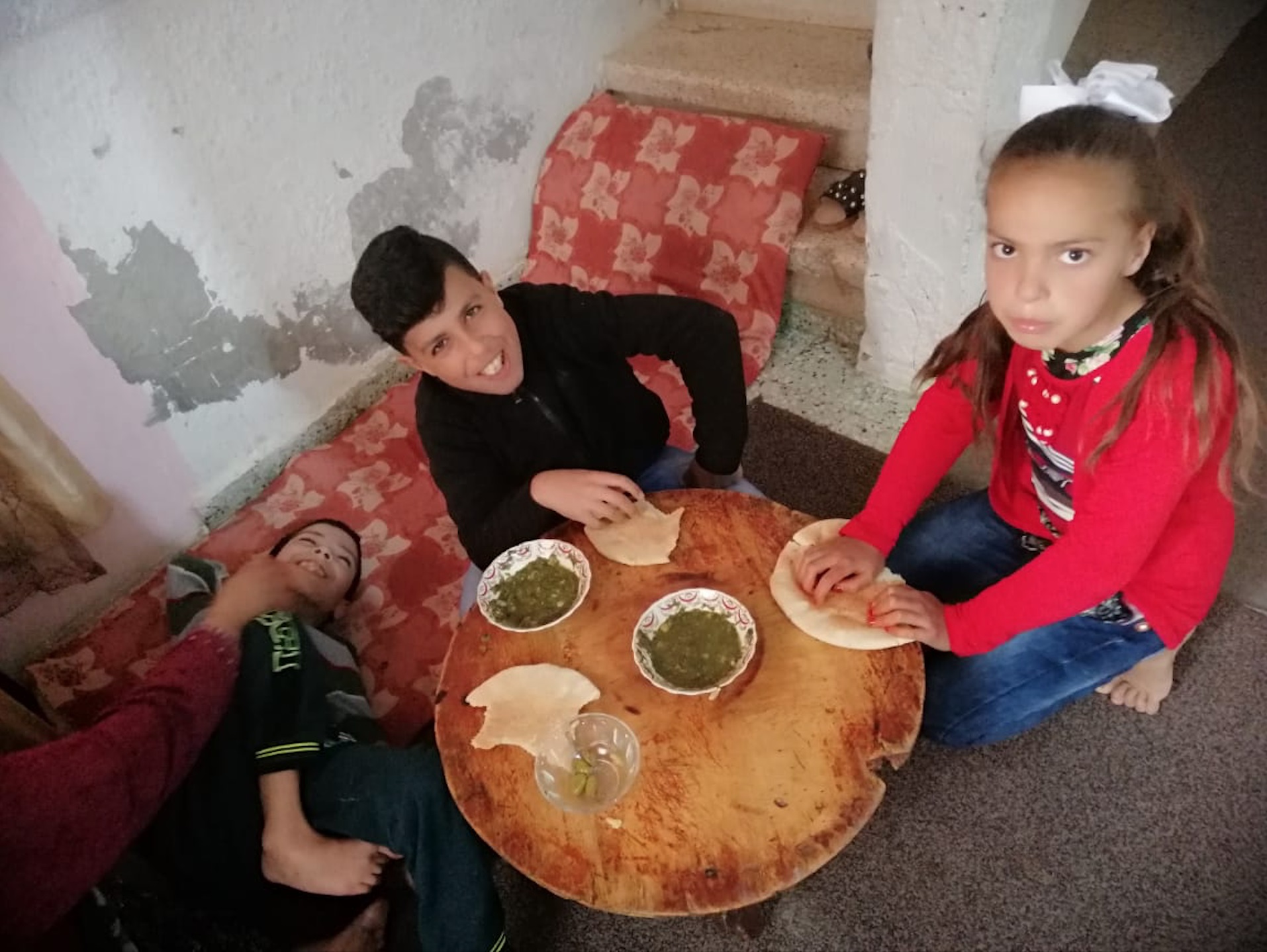 Wafaa lives in Gaza with her six children; the eldest is 21, and the youngest is nine. Since their father passed away seven years ago, Wafaa has been supporting all her children on an income of just £150 a month, including shouldering the health expenses of a child with cerebral palsy.
When we ask Wafaa about her hopes for Ramadan, she replies that she wants to complete the Qur'an and make plenty of du'a. 'Allah loves that His slaves ask from Him, and I love to ask from Him,' Wafaa tells us.
What will she ask for?
'I am concerned that I can't provide my children with Iftar and Suhur,' she says. 'I have a long list of du'as...The gates of heaven are open in Ramadan, and Allah will answer my du'as, in sha' Allah'.
Thousands of parents worldwide are making the same du'a - to be able to feed their children this Ramadan. Your generosity can be a lifeline for these families, lifting the burden from their backs during the holy month. 
Be the answer to their du'as. Help us provide Ramadan Family Food Parcels and cooked Iftar meals to struggling families across the globe.
Stay Connected
Be the first to know about our work around the world
Sign up to our Mailing List!