Friday, 11 November 2016
'I watered them with my blood, sweat and tears'

Over 1 million olive trees have been uprooted due to the ongoing conflict and illegal settlement in Palestine for over forty years. The destruction of these trees is even greater, with over 2 million being destroyed since 2000. These trees provide a sole income for many Palestinian farmers, some trees have been providing fruit for over 600 years. With countless families dependent on olive tree farms, their destruction is a distressing blow to a community plagued by increasing levels of poverty and unemployment. In Gaza alone, 1 in 4 people is now living below the poverty line.
However, your generosity is giving Palestinian farmers renewed hope. Muslim Hands have spent the last week distributing 30,000 olive tree saplings donated by you through our Great Charity Gifts programme to farmers across Gaza and Jerusalem. Thanks to donors like you, families like Ziad Ayyad's, will once again be able to sustain themselves and their communities through one of Palestine's oldest and most prominent industries.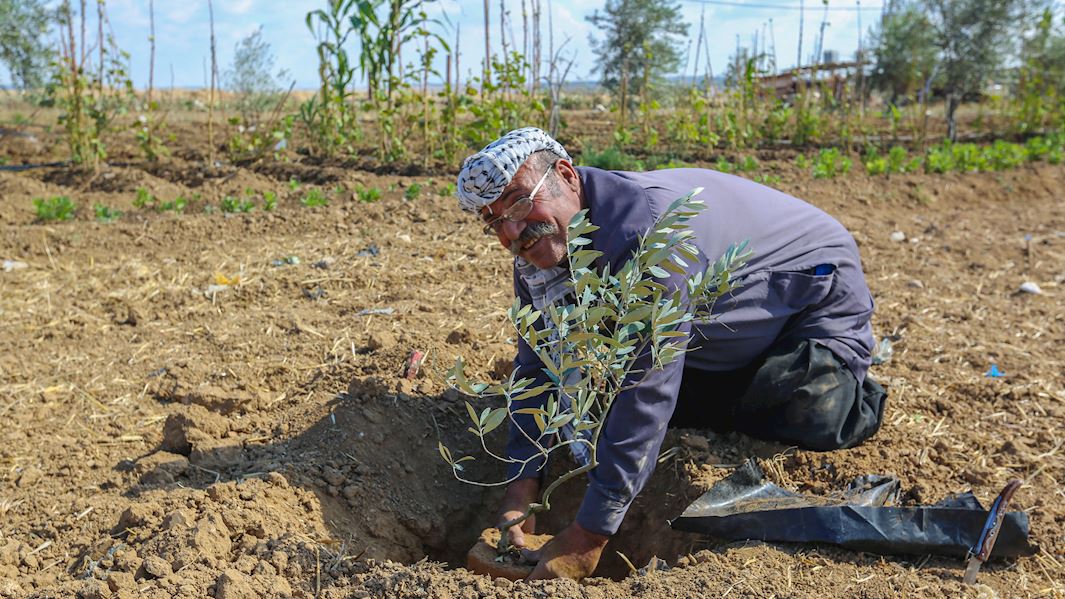 When Ziad Ayyad's land was annihilated during the latest Gaza conflict, he lost all his beloved olive trees. 'I watered them with my blood, sweat and tears', he says. 'I really considered them as my sons and daughters'.
Since his childhood, the 63-year-old father of nine has worked the land. The trees not only provided a regular income for Ziad and his family, but they were inseparably bound up with their sense of belonging and identity. For Palestinians, the olive tree is a fundamental part of   their culture and heritage and Ziad referred to his olive grove as his 'paradise'.
Since the devastation of his land, Ziad has had great difficulty in supporting his family on the 168 dollars he receives from the Social Affairs Ministry each month. Thanks to your generous donations, Ziad has received a special delivery of 180 olive tree saplings from the Muslim Hands Palestine team. When the team unpacked the trees, they were so moved by Ziad's joy, that they struggled to hold back their tears. Ziad told them:
'The Muslim Hands donors have placed their healing hands on a wound I thought would never heal. They have restored a smile to my wife's face and for the first time since I lost my trees, I can face life's obstacles head on because I have my independence and my dignity back. May Allah (swt) bless you all and reward you well for your kindness'.
You can follow our olive tree distributions on Facebook Twitter and Instagram 
---
Facebook

Twitter

Email This