Monday, 03 February 2020
Gift a School Kit Distribution
Muslim Hands assisted numerous rural schools in the West Coast region of the Western Cape on Monday, 27th January. Some of the schools included: Holvlei Primary School in Hopefield, Jurie Hayes Primary School, and Louville High School in Vredenburg.
A lack of tools and resources at rural schools remain a huge concern to the learners of these areas. Kids from these areas travel many kilometers before reaching schools. Some of their parents work on surrounding farms and most of them unemployed.
Muslim Hands identified the West Coast as a key location to distribute the stationery for 2020.
Holvlei Primary School hosts around 70 children from neighboring informal settlements. The school accommodates up to three grades in one classroom.
"Due to the unavailability of resources to cater for the children in individual classrooms, we have to put them all in one classroom. We divide the grades such that Grades 1, 2 and 3 are placed in one classroom while Grades 4, 5 and 6 are placed in a different classroom. We have one teacher that teaches the lower grades, and one teach the higher grades. It is a lot of pressure as we have to cover all three curriculums of the grades we oversee", says Mr. Toyer, Principal of Holvlei Primary School.
Speaking at the handover at Jurie Hayes Primary School, Muslim Hands Programmes Manager, Sheikh Haashim Peck stated "Muslim Hands decided to assist in the West Coast as many a time, businesses and organizations do not come out here due to the traveling distance. We had our Programmes team come out for a needs assessment and noticed that there was a great need for assistance in the rural schools of the area. We hope to see progress and hope we have made an impact on other learners."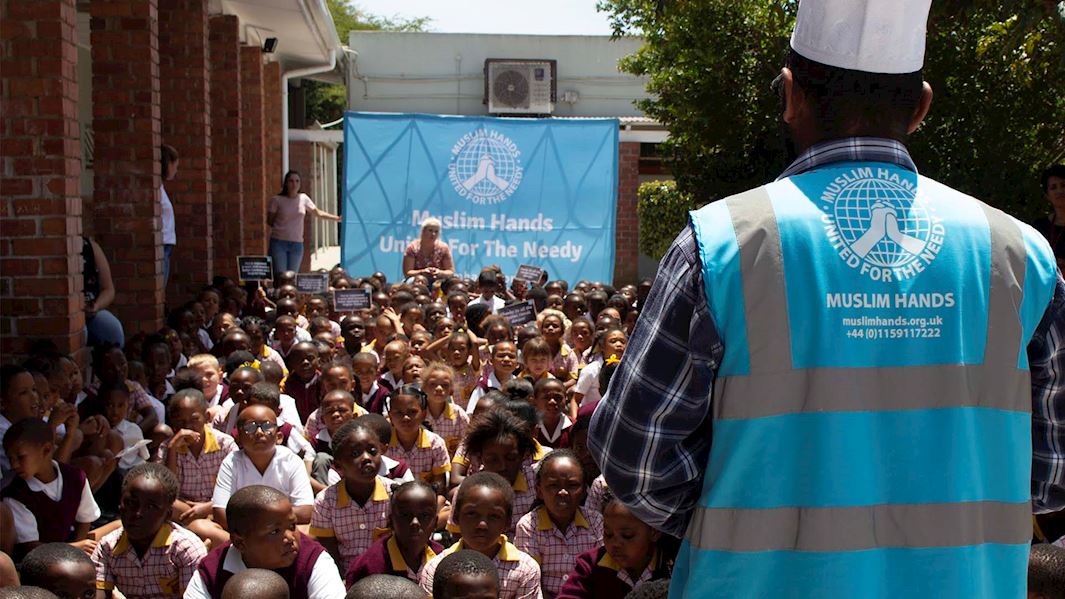 The children from Jurie Hayes Primary School were tremendously excited upon receiving new stationery packs as they screamed and jumped out of joy at the sight of new stationery kits. In an additional act of generosity, Muslim Hands also donated 7 boxes of school shoes at the sports day for Louville High School in Vredenburg, and 70 stationery packs at the Hopefield Mosque. Sheikh Refaat, a representative of the West Coast, thanked Muslim Hands for their donation as he witnessed children from all of the schools were extremely overjoyed, humbled and overwhelmed upon receiving their new stationery packs and shoes.
Mr. Donny Jacobs, Principal of Jurie Hayes Primary School also quotes "most of the children at the school come from informal settlements and disadvantaged areas of Vredenburg and they travel by bus every day. Most of the children come from homes of single parents, and the mothers do not work, so it puts them in a very tight position where they cannot afford basic things like stationery. Muslim Hands donating stationery packs to the children will bring a huge relief to them because most times, there is a confrontation between teachers and learners because they do not have the required stationery, so the provision of stationery now will be of great assistance to them."


---
Facebook

Twitter

Email This