Monday, 06 March 2023
Why Should You Donate to Muslim Hands?

You've found yourself on the Muslim Hands website. Maybe you clicked on an ad or a link somewhere, or perhaps you Googled us and now you're here. You might be thinking, 'What makes Muslim Hands so different from the endless list of other charities?'
We understand that choosing the right charity for you can be a difficult task. There are so many things to consider. To help you decide, we've compiled a simple list to explain who we are, what we do and (cliché as it sounds) why we are different. Have a read and see why Muslim Hands is the charity for you!
1. We have 27 years of experience – but we started out small
Muslim Hands is a fully registered charity (NPO: 005-997/PBO: 9300019033) and we now have 27 years of experience in delivering aid to those in need. But we started out small.
In 1993, Muslim Hands UK mobilised the local community in Nottingham to send aid to the people of Bosnia, moved by the plight of our brothers and sisters. Since then, we have expanded our reach to over 30 countries, delivering your amanah (the trust you placed in us to distribute your donations) to the people who really need it.
We are much bigger than we started out, but we still have a grassroots ethos and we don't want to forget our roots. We still rely on individual donations over and above institutional support and our volunteers are at the heart of what we do. 
Alhamdulillah, we have grown completely organically, as Allah (SWT) continued to give us more opportunities and expand the Muslim Hands family. 
2. We are helping more people every year
As your donations have increased year-on-year, the number of people we can help has also increased. In 2022 alone, our generous donors:
Gave clean drinking water to over 

2.1 million 

people, by constructing

 

water wells.
Increased our capacity in our

 

Open Kitchen

 

so that we could meet the rising demand for our services

 

as the impact of the cost-of-living crisis took effect.
Provided emergency relief to 3.5 million of our brothers and sisters

 

that had been hit by catastrophic natural disasters.
Beyond the facts and figures are so many stories of people who were in hardship before generous donors offered their support. We are so grateful to have expanded over the years to reach this many people. Whether we are distributing emergency relief or tackling the root causes of poverty, we strive to spread hope and make long-term improvements to the local community. 
3. We have global teams – including in war zones
We have dedicated teams on the ground, to be your hands, widows and vulnerable families. With established global offices, we can mobilise swiftly as soon as a crisis strikes, such as earthquakes in Turkiye and Syria, and floods in Pakistan.
With years of experience at hand, our country offices have the necessary knowledge and expertise to direct your donations to the right communities – where they are most needed.
Long-running projects in each community mean we can keep our fingers on the pulse and give people what they say they need.
With worldwide infrastructure and experts in every office, we are grateful that we have the resources to solve people's problems in the best way for them.
4. We offer a personalised approach
If you would like a personal charity project just for you: 
You can donate a Great Charity Gift. For each of our Great Charity Gifts - we will send you a certificate, personalized with the name you choose. We have a range of gifts for you to choose from: gifting olive trees, livestock, sewing machines and more- all of them guaranteed to bring a smile and empower those in need globally.
You can

 

build your own water well

 

with a plaque, from a range of costs. Whether you want to provide clean water for a family for years to come, or for an entire village, our teams on the ground can make that a reality. We dig thousands of new wells every year and

 

each of these projects also come with feedback so you can see the smiles of those beneficiaries and what your donation has achieved.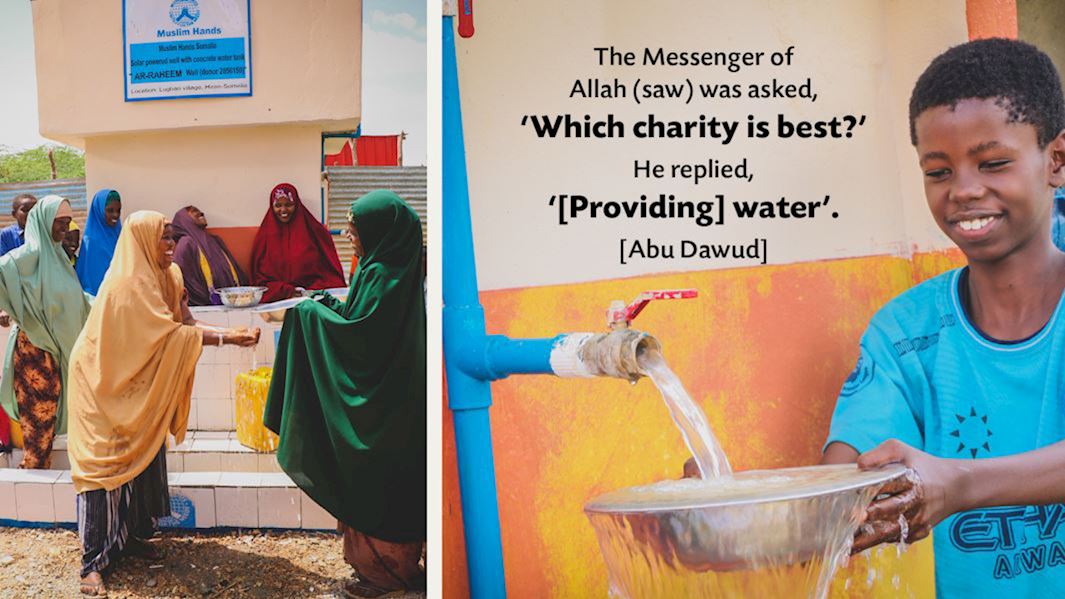 ---
Facebook

Twitter

Email This