Monday, 20 February 2023
Türkiye and Syria Earthquake - Our CEO's story from the ground

On Monday 27 February, Adana airport in Hatay Province, Southern Türkiye.
This province felt the brunt of the two massive earthquakes, which struck on 6 February 2023.
As we set out on our 2-hour journey to Antakya, I started asking my driver questions about the area we were heading to as well as the damage I could expect to see. Unfortunately, his English was not any good and he spoke in Turkish into an app on his phone, which then translated to me what he said. He did however use sign language and his app to point out to me where houses or buildings were damaged or destroyed.
The closer we got to Antakya the more the damage was visible. Building upon building was lying in ruins. The removal of rubble from the roads to make it accessible and clear again was also impressive. A mere 3 weeks after one of the biggest earthquakes in the last century the rubble was all moved to the side of the road and roads were clear for traffic.
I was part of a Muslim Hands delegation from the United Kingdom, France, and South Africa whose primary objective was to ensure that the funds our donors entrusted us with were going to those in need. In the immediate aftermath of the earthquakes, Muslim Hands provides hot meals, emergency medical care, food parcels, hygiene packs and temporary accommodation.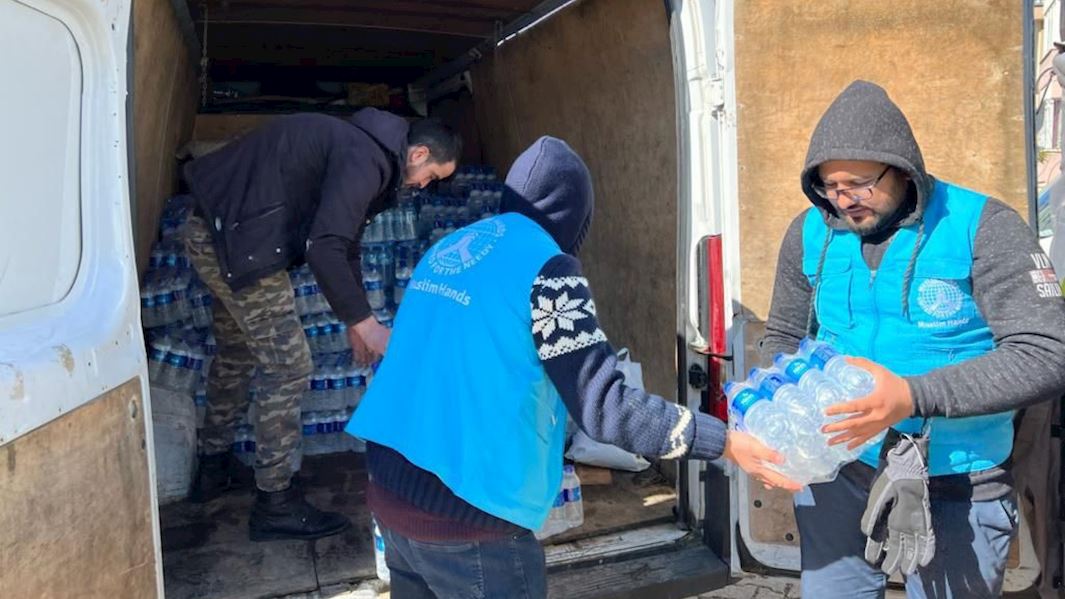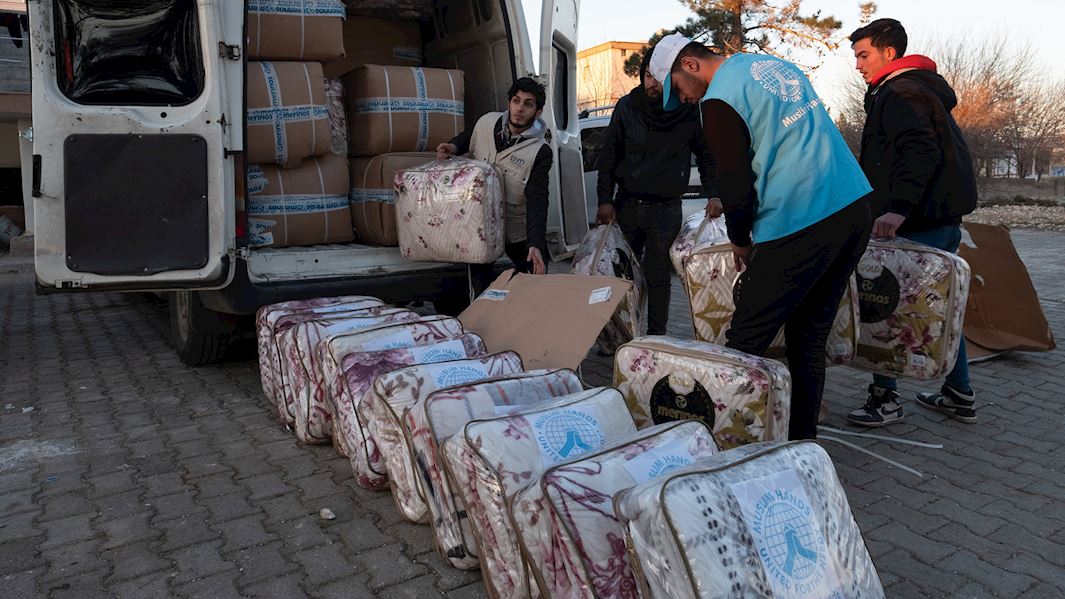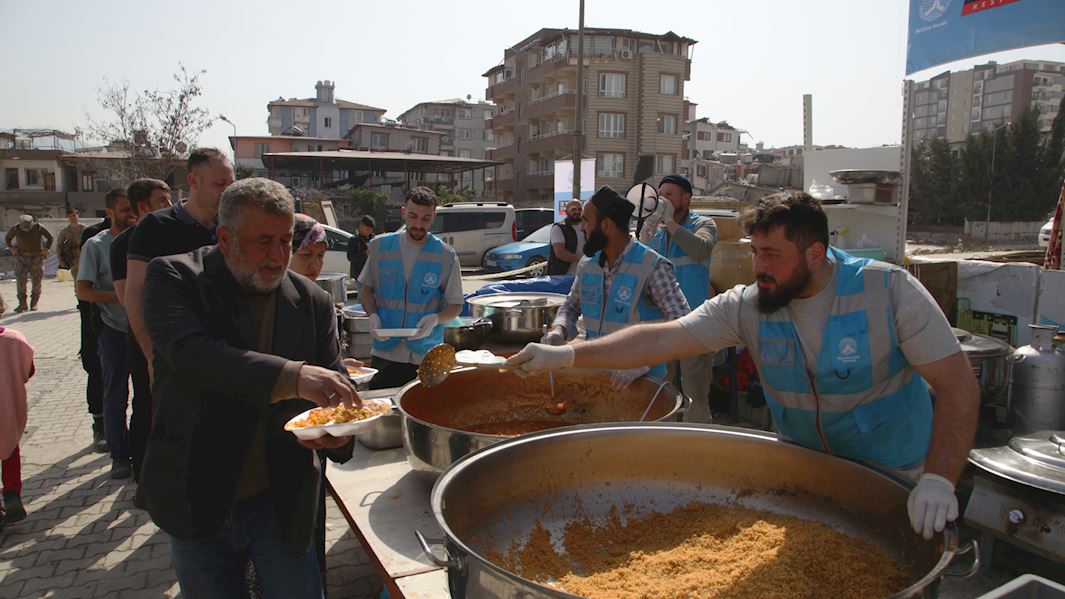 Early the Tuesday morning, we set out for a visit to downtown Antakya. The destruction was unbelievable. What once was a thriving city and community was lying in ruins. Apartment buildings, shops and other commercial properties were abandoned and either completely destroyed or severely damaged. We visited the Muslim Hands open kitchen that provides, breakfast, lunch and dinner to the earthquake survivors who have now been all left homeless and destitute. Sadly we found that most of the people left the city. They have either been moved to the temporary tents and container homes which are now being provided in Phase 2 of the response or they moved to other cities to be with relatives. The queues for food were still long, however. As most of the people were either security forces protecting the area as well as the last survivors who remained behind. The kitchen will now be moved to one of the nearby tent cities.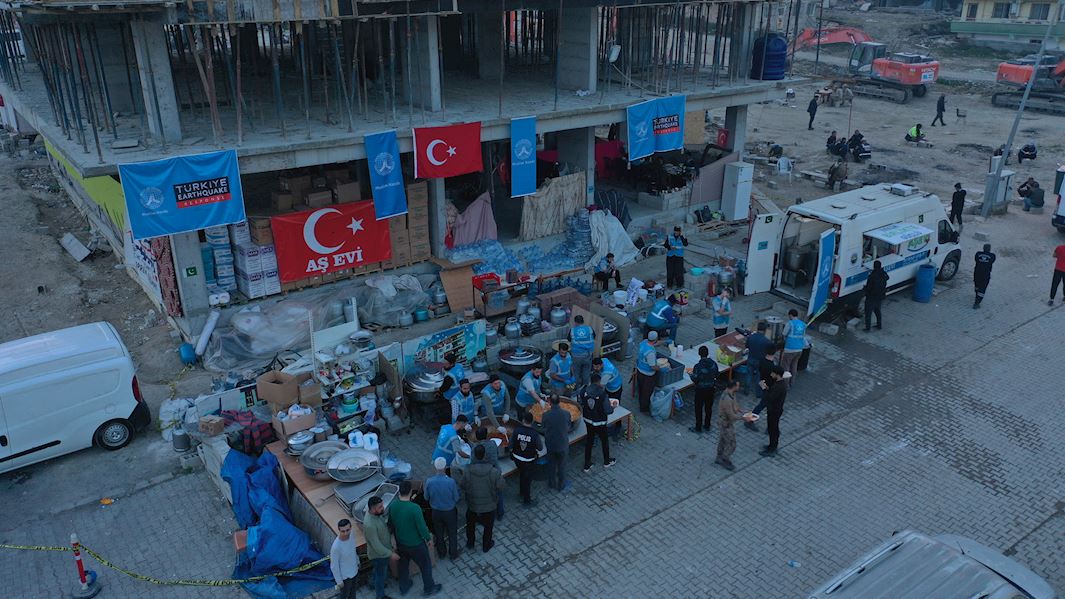 We also visited a hospital and housing settlement fully constructed from prefabricated containers. For just R66 000 one of these container homes can be provided. By using your Zakat or Sadaqah you can fund a home for a family of 4.
One evening we went to visit our open kitchen in a tent village in an area called Samandag. Here we found a community of 67 tents housing about 750 survivors. The mood amongst them was incredibly sombre. I decided to go and mix with the people and to chat to them. There were many youngsters, ranging from the ages of around 3 to 20 years of age. Many of them were now orphans, having lost either one or both their parents. The younger ones were easier to get through to. I showed them YouTube on my phone and they immediately felt temporarily comfortable. I was left heartbroken thinking about what the future might hold for these kids. They were ordinary kids like mine back home and on more than one occasion I shed some tears. I immediately felt as Muslim Hands, we must help with getting the kids psycho-social support. On my return to South Africa it is something I will immediately look at.
Historic religious buildings were also not left unscathed. We visited the Masjid of Habib Al Najjar, a person who is referred to in the Quran. In Surah Yaseen (36:20) Allah says "O my people, follow the messengers. And there came from the uttermost part of the city a man running. He cried: O my people! Follow those who have been sent!" Many scholars of Tafseer are of the opinion the man referred to here is Habib Al Najjar.
The destruction everywhere both to infrastructure and to the people is immense. Lots of recovery work will be required. The direct physical damage caused is estimated at $34,2 billion.
Our appeal to you is to continue to give generously, especially during the month of Ramadan, where the rewards are multiplied.
Give your Zakat or Sadaqah and help support the most needy. You Are Their Hope.
---
Facebook

Twitter

Email This